Dr. Johnson believes in a patient-centered approach, where you are involved in the decision making process and understand your dental needs. Through continuing education and his involvement as a Clinical Consultant with Dental Advisor, he stays current with the latest dental trends. We provide up-to-date diagnostic technologies and techniques, including digital radiographs and intra-oral photography. Dr. Johnson is a member of the Oakland Community Dental Society, Michigan Dental Association and American Dental Association.
Dr. Johnson grew up in Farmington Hills and completed his undergraduate studies at the University of Michigan with a B.S. in Neuroscience. He then completed his doctor of dental surgery degree also at the University of Michigan in 2012. After graduation, he moved to Chicago where he worked to treat the medically underserved as well as in private practice. He moved back to Michigan in 2016 and is happy to be home in the mitten. He has owned and operated Wolfpack Dental for over 4 years. In his free time he enjoys biking, movies, and traveling with his wife.
---
Toni
Toni has been working in the dental field for over 20 years. She has experience in all areas of the dental practice, but her favorite is working at the front desk helping patients schedule appointments and navigate insurance. Toni strives to make your dental visit enjoyable from the start to finish. Toni is a New York native and moved to Michigan with her husband and two children. Since then, her family has grown with the addition of five grandchildren. Toni has a special interest in nature and enjoys spending time in the garden, boating and traveling.
---
Michelle, RDH
After several years of working as a dental assistant, Michelle pursued her degree in Dental Hygiene and graduated from OCC in 1999. She joined our office in 2001 and has enjoyed building lasting relationships with patients. Michelle's goals for patient care include educating patients about their oral health, developing individualized home care programs, and providing a comfortable experience. In her free time, Michelle is staying active, spending time with family and friends or cooking. She enjoys attending concerts, reading and hopes to start traveling more in the future.
---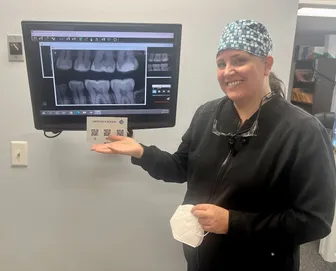 Kristen, RDH
After several years of working as a massage therapist, Kristen decided to head back to school. She completed her degree in dental hygiene from Oakland Community College. Kristen's goal as a hygienist is to create a comfortable experience for her patients along with patient education. Outside the office, Kristen enjoys spending time with her three children and husband and staying active as a Zumba instructor.

---
Claudia
Claudia has 45 years of dental assisting experience and has been with our office for over 20 years. She has become a great friend to many of our patients and has watched many families grow. Her former work with Delta Dental adds to her knowledge of dental benefits. Claudia enjoys traveling, but also loves staying home and working in the garden.
---
Rachael
Rachael is the newest member to join our pack. She started as a dental assistant in the beginning of 2021. Rachael enjoys assisting on a variety of procedures, but specializes in surgical care. She genuinely connects with each patient and enjoys getting to know each one. When not at work, she is enjoys spending time with her family and 3 dogs, camping and baking.
---